As the autumn leaves paint the world with shades of gold and orange, love is in the air, and what better way to celebrate it than with a Fall Couples Shower like no other? Picture this: Champagne flutes clinking, beer mugs frothing, and a radiant orange pumpkin centerpiece stealing the show. This is the essence of a Couples Shower that combines elegance with the cozy charm of fall.
Champagne Dreams:
Every love story deserves a toast, and at this Fall Couples Shower, we've got that covered. The sparkling allure of champagne adds a touch of sophistication to the celebration. Whether it's the classic brut, a sweet prosecco, or a refreshing mimosa, these effervescent bubbles symbolize the joy and effervescence of the couple's love.
Beer Bliss:
But what's a celebration without a hearty sip of beer? For those who appreciate the art of craft brews, there's an artisanal beer selection that caters to every palate. From hoppy IPAs to rich stouts, guests can raise their mugs high and cheers to the couple's future filled with happiness and adventure.
The Pumpkin Spice Touch:
Autumn is the season of pumpkins, and it wouldn't be a true fall celebration without the presence of this iconic symbol. A vibrant orange pumpkin takes center stage as a stunning decoration piece. It exudes warmth and coziness, instantly transporting guests to a world of pumpkin-spiced delights.
Invitation to Love:
The "Bubbles & Brews & Pumpkin" Couples Shower Invitation sets the tone for this unique celebration. Its design elegantly combines elements of love and autumn, mirroring the event's essence. It's an invitation that promises a memorable gathering with friends and loved ones. https://invitinginvites.etsy.com/listing/1283469644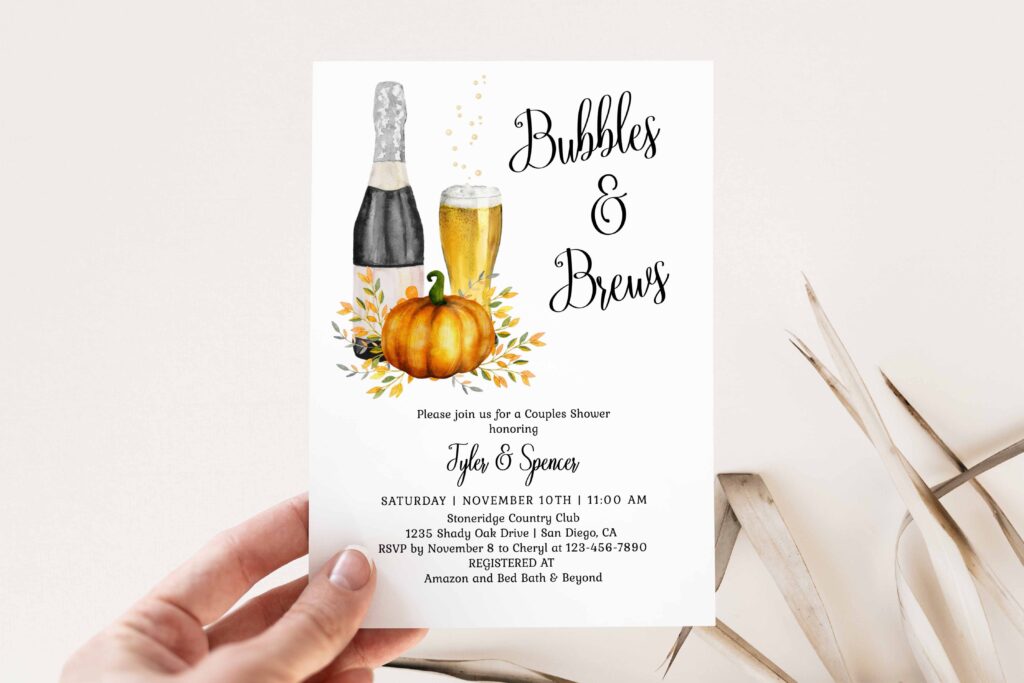 Join the Festivities:
Dress in cozy autumn attire, think stylish scarves and warm sweaters, and prepare to make lasting memories as you celebrate the love story of the soon-to-be-married couple. Laughter will fill the air, and toasts will be raised in their honor, all while enjoying the rustic charm of the season.
Conclusion:
In a world of traditional bridal showers, a Couples Shower with Champagne, Beer, and Pumpkin Spice is a breath of fresh fall air. It's a celebration that merges elegance with the warmth of autumn, creating an unforgettable experience for the couple and their guests. As the leaves fall and love blooms, let's raise a glass and toast to a future filled with love and laughter. Cheers to the happy couple!
MATCHING ITEMS https://etsy.me/3LfGwEV