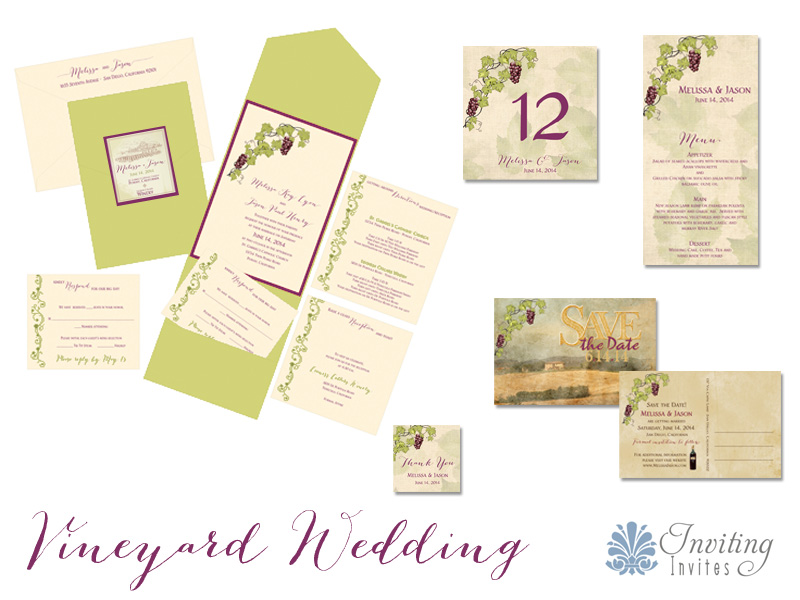 It all starts with the invitation, the centerpiece of the stationery suite.
But, what else do you need to go in that ever important envelope?
Your wedding invitation sets the tone for your wedding
and tells the who, what, when, where of the day.
It's very confusing (since you only pick these out once in your life!)
to know what parts you need to include in your invitation and why.
Below is a list of the most common components of a wedding invitation suite.
---
SOCIAL EVENT INVITATIONS – There are so many things to celebrate during your engagement.  You will need invitations for your engagement party, showers, bachelorette party and rehearsal dinner
SAVE THE DATE   Sent six to twelve months before the wedding. The Save the Date allows guest to get your wedding date on their calendars.  Ideal for summer, holiday weekend or destination weddings.
INVITATION WITH ENVELOPE  Think of the envelope as the gift wrap to your invitation.  Dress them up with printed return address, guest addressing, and motif. Also consider using a color envelope and envelope liner.   Invitations are mailed six to eight weeks before the wedding.
RESPONSE CARDS   Include a pre-addressed envelope for your guests to send their RSVP and/or indicate meal choice.  The response reply by date should be 3-4 weeks prior to the wedding date.
RECEPTION CARDS  Convey the time and location, and often the style, of your reception. Cards are mailed with your invitations.  If reception is at the same place as the wedding ceremony, you will not need a reception card.  On the invitation you can put at the bottom "Reception to follow" or "Reception immediately following".
MULTI-PURPOSE CARDS   To provide miscellaneous details like directions and accommodations, or can be used to share wedding weekend events with your guests.
WEDDING PROGRAM  is an outline of your ceremony and also includes names and roles of the wedding party and ceremony participants.  Not only informative but is a nice keepsake.  Add ribbons, crystals and color for a custom look.
TABLE NUMBER  Helps guests find their seats and is an aid to servers.
PLACE CARD/ESCORT CARD  Place Cards are placed at guests seat at the reception. An Escort Card lets guest know what table they are sitting at.
MENU CARD   While not essential, menu cards are an elegant token.  The different courses for the meal are presented, and the cards are either placed at each place setting or displayed two or three to a table.
FAVOR TAG  A pretty touch for favors that completes your overall theme.
THANK-YOU NOTES   Best to order these with your invitations. Etiquette dictates you send thank-you notes with in six weeks of receiving any gift.
WEDDING ANNOUNCEMENTS  Wedding Announcements are sent after a wedding has taken place. Announcements are usually issued by the new Bride & Groom.